Residential Cart Information
Use Your Carts, Save Money, Save the Earth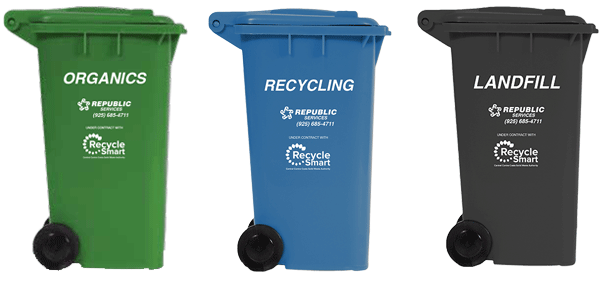 It's easy to save money - and the environment - when you recycle. Here's how:
Your service fee is based on the size of your black cart - the smaller your cart, the less you pay. So recycle more, "downsize" your black cart, and save money!
Is your 64 gallon blue recycling cart or your 64 gallon green organics cart at capacity? You can request a larger 96 gallon size at no additional cost. Contact Republic Services at (925) 685-4711.  
Download the Residential Services Guide for more information.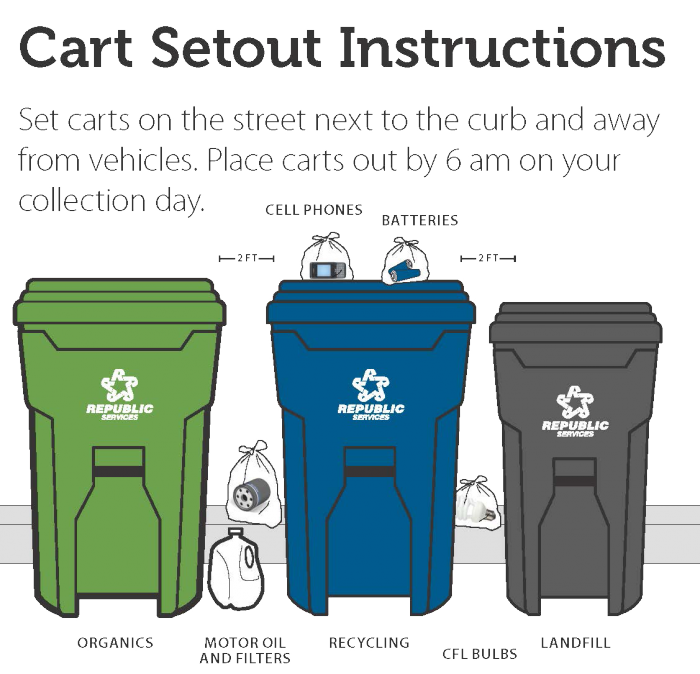 ---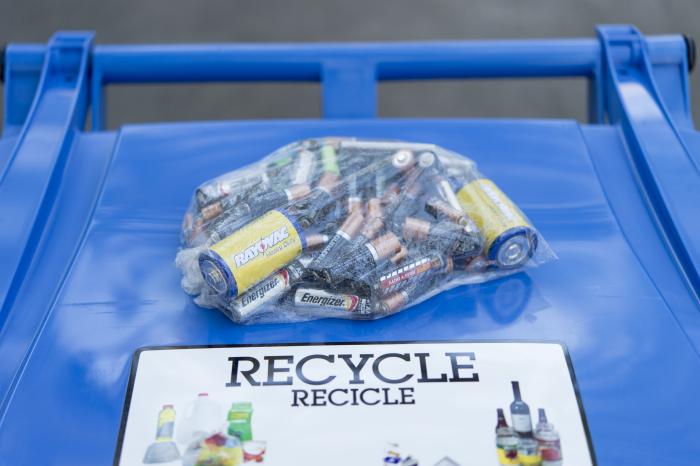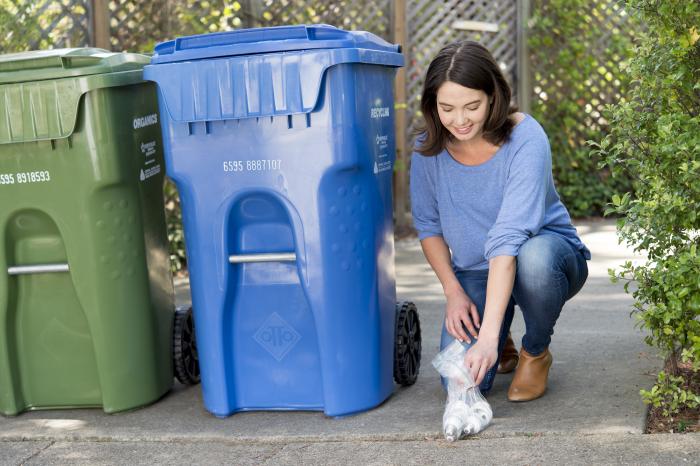 Where to Put Your Cart
Standard service is automated curbside or streetside pick up. Carts should be placed at the curb or street side, easily accessible by the Republic Services trucks with wheels and handle against the curb. You need to leave 2 feet between the carts to allow for the mechanical arm to grab the cart. Carts must be placed at the curb the night before or by 6:00 a.m. on your collection day.
If you live on a narrow street without enough room for everyone to put out three containers, contact us to find a solution.
You can request on-property service for an additional monthly fee. Drivers will go onto your property on foot and collect the carts from a designated area, within 75 feet of the road. Contact Republic Services. (If you have a physical disability, Republic Services will accommodate you at no additional charge; please provide a written letter from your physician.)
Reminders
Do not put hazardous materials or electronics in any cart; see Hazardous Waste Disposal for more information.
Collection is weekly; the same day for all your carts.
Be sure all materials fit inside the cart with the lid closed; if you need a special pickup, call us at (925) 685-4711.
Leave at least two feet of space between your different carts and any other street obstacles such as mailbox, cars, or portable basketball hoops.
Please store empty carts on your property out of public view.
Call us with any questions about your carts.
Additional Materials We Pick Up
Used motor oil and oil filters; call us at (925) 685-4711 to request a used oil container and filter bag.
Put batteries in a zip-lock or tie-close plastic bag and place on top of the blue recycling cart (pictured).
Put cell phones inside a zip-lock or tie-close plastic bag and place on top of your blue recycling cart.
Put compact fluorescent bulbs inside a zip-lock or tie-close plastic bag and place next to your blue recycling cart (pictured).
Put overflow garbage in 32-gallon trash bags; call us in advance.