Green Organics Cart for Residential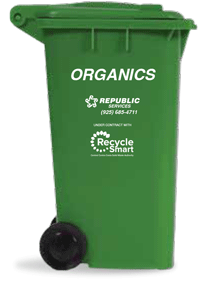 You can put both food scraps and yard trimmings in your green cart. If it was once alive, it can go in the cart. That includes food-soiled paper (paper was once a tree, and the food will contaminate paper recycling if you put it in the blue cart). If you choose to use a bag, it must be compostable, not plastic or biodegradable (look for the "BPI compost certification" on the packaging).
Republic Services will provide you with a small food scraps container for your kitchen; call us at (925) 685-4711 to request a container.
The standard residential cart size is 64 gallons, but if you routinely have more than can fit in your cart, we'd be happy to give you a larger 96-gallon container at no charge, or a second 64-gallon cart for an additional fee. For details, please call us at (925) 685-4711.
Visit the Residential Food Scraps Program page at RecycleSmart for more info about this program.

Put in Your Green Cart
Landscape Trimmings
Brush
Flower cuttings
Flowers
Garden trimmings
Hay
House plants
Lawn clippings
Leaves
Prunings
Shrubbery
Straw
Tree twigs (4 feet or less in length and 6 inches in diameter)
Weeds
Wood chips
Food Scraps
Compostable plastic bags only
Raw or cooked food scraps
Veggies
Meats, seafood
Dairy products
Breads, grains, pastas
Fruits
Bones, shells
Food-Soiled Paper
Pizza boxes
Paper cups
Paper plates
Napkins
Paper towels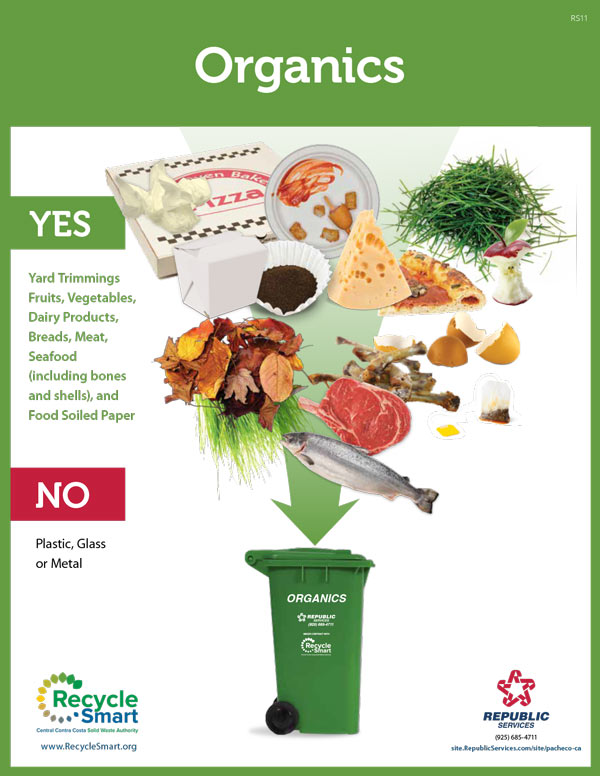 Do Not Put in Green Cart
Ashes
Cactus, succulents (too fibrous)
Large tree trunks and stumps
Pet waste or manure
Plastic bags, regular or biodegradable (but compostable plastic bags ARE acceptable)
Plastic, glass or metal
Poison oak, poison ivy
Rocks, concrete, sod or dirt
Treated or painted wood
Recyclables and Organics On-call Cleanup
Planning to trim back your trees? Want to clean out all the outdated paperwork in your home office? Just moved in and have loads of cardboard boxes and/or newspapers to recycle? If you don't have room in your recycling or organics carts for all that material, you can schedule an on-call service.
All single-family households in our service area are entitled to four (4) on-call recyclable/organics cleanups every year, at no additional charge. Call  us at (925) 685-4711 to schedule an appointment (please call at least two weeks in advance).
The total amount of material accepted is two cubic yards (the equivalent of fourteen 32-gallon bags).
Cardboard should be broken down and put in bundles no larger than 18" x 18". Paper and other recyclables should be put in brown paper bags, boxes or bundles using rope or twine.
Branches should be no larger than 2" in diameter and bundled no larger than two feet wide and four feet long.
Loose yard clippings such as leaves and grass should be placed in plastic bags, buckets, boxes, or personal trash cans, no more than 32 gallons per bag, box or container.
No garbage, ashes, dirt, rocks, glass, metal, fruit or vegetables, nor fibrous plants such as cactus, ice plant, ivy, palm, or poison oak or ivy can be accepted.