Green Organics Cart for Apartments and Condos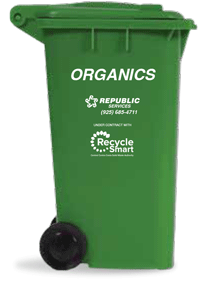 You can put both food scraps and yard trimmings in your green cart or bin. If it was once alive, it can go in the cart. That includes food-soiled paper (paper was once a tree, and the food will contaminate paper recycling if you put it in the blue cart). If you choose to use a bag in your food scraps container, it must be compostable, not plastic or biodegradable (look for the "BPI compost certification" on the packaging).
Republic Services will provide you with a small food scraps container for your kitchen; please check with your property manager first and then call Republic Services at 925-685-4711.
Visit the Residential Food Scraps Program at RecycleSmart for information on this program.
.

Put in Your Green Cart
Landscape Trimmings
Brush
Flower cuttings
Flowers
Garden trimmings
Hay
House plants
Lawn clippings
Leaves
Prunings
Shrubbery
Straw
Tree twigs (4 feet or less in length and 6 inches in diameter)
Weeds
Wood chips
Food Scraps
Compostable plastic bags only
Raw or cooked food scraps
Veggies
Meats, seafood
Dairy products
Breads, grains, pastas
Fruits
Bones, shells
Food-Soiled Paper
Pizza boxes
Paper cups
Paper plates
Napkins
Paper towels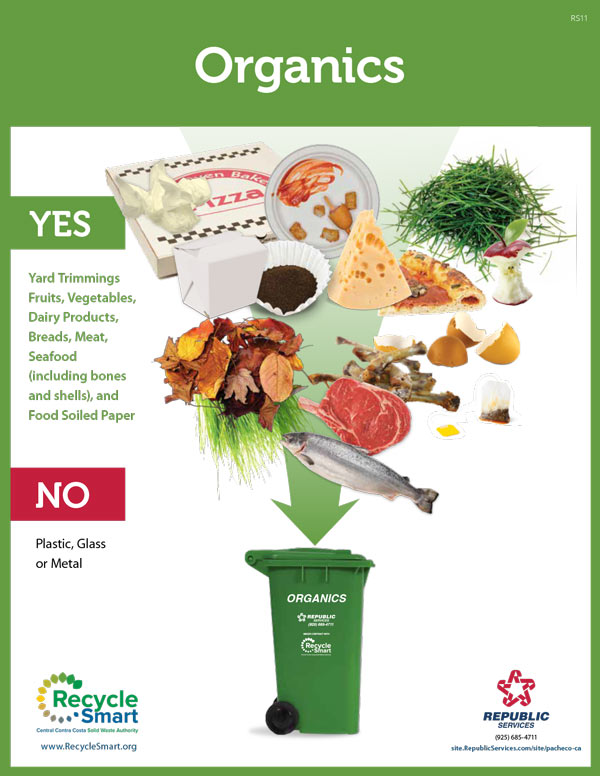 Do Not Put in Green Cart
Ashes
Cactus, succulents (too fibrous)
Large tree trunks and stumps
Pet waste or manure
Plastic bags, regular or biodegradable (but compostable plastic bags ARE acceptable)
Plastic, glass or metal
Poison oak, poison ivy
Rocks, concrete, sod or dirt
Treated or painted wood