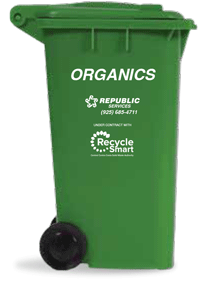 Green Organics Cart for Businesses
You can put both food scraps and landscape trimmings in your green cart. If it was once alive, it can go in the cart - and that includes food-soiled paper! Paper was once a tree, and the food will contaminate paper recycling if you put it in the blue cart.
Restaurants, grocery stores or large food waste generators should participate in the Food Recycling Project.
View our Organics and Food Waste Posters

Put in Your Green Cart
Landscape Trimmings
Brush
Flower cuttings
Flowers
Garden trimmings
Hay
House plants
Lawn clippings
Leaves
Prunings
Shrubbery
Straw
Tree twigs (4 feet or less in length and 6 inches in diameter)
Weeds
Wood chips
Food Scraps
Bones, shells
Breads, grains, pastas
Dairy products
Fruits
Food scraps, raw or cooked
Grease, in small amounts
Meats, seafood
Veggies
Food-Soiled Paper
Pizza boxes
Paper cups
Paper plates
Napkins
Paper towels (used for food spills, without cleaning fluids)
Do Not Put in Green Cart
Ashes
Cactus, succulents
Large tree trunks and stumps
Pet waste or manure
Plastic bags, regular or biodegradable
Plastic, glass or metal
Poison oak, poison ivy
Rocks, concrete, sod or dirt
Treated or painted wood