Business Recycling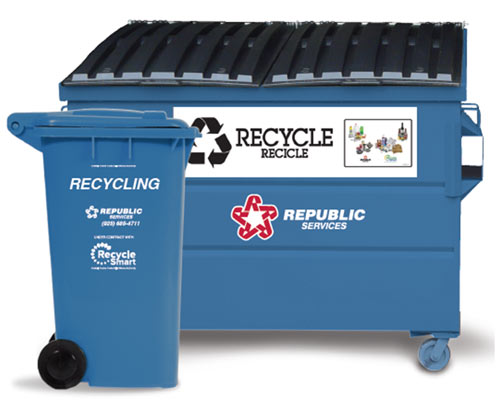 Ordinance 15-1 requires businesses located within the CCCSWA service area (includes Danville, Lafayette, Moraga, Orinda, Walnut Creek and unincorporated central County areas including Alamo, Diablo and Blackhawk) to either subscribe to a basic level of recycling service or self-haul all recyclable materials to a CCCSWA-approved recycling center. Please download a copy of the Ordinance.
As part of your landfill / garbage service fee, recycling and organics (food waste or yard waste) services are available at no additional cost.
This means your business can divert more from the landfill and potentially save money by right-sizing your landfill services.
Recycling is single-stream (cardboard, metal, glass, paper and clean plastic, can all go in the same recycle container). For a complete list of acceptable recyclable materials, visit our Mandatory Recycling page.
We can provide dumpsters (from 1- to 8-cubic yards) or carts (64-gal or 96-gal) for recycling. Depending on the materials your business generates and the space available, we can provide a recommendation of size and service level.
Educational Materials Available
Our recycling coordinators can also provide educational materials and training workshops for your employees.
Posters
Detailed information about what can be recycled, composted, and landfilled.
Resource guide
Includes information on how to save money by reducing waste and recycling and what to do with electronic and hazardous waste.
Recycling bins
Free indoor recycling bins available in a variety of sizes.
Stickers and Wall Signs
Pictures and information about what can go in the recycling, organics, and landfill bins.
5"x8" Stickers
4"x8" Stickers

Free Waste Assessments/Assistance
Want to improve your recycling program?  Want to find out what else you can recycle?  Do your employees need recycle training?  Assistance is available at no charge!  Free waste assessments will provide you with a waste characterization and recommendations for a more successful program.  A Recycle Coordinator is also available for training your employees or to obtain any of the free resources listed above.
Contact:
Kimberly Lam
Republic Services Recycling Coordinator
925.671.5851 - klam2@republicservices.com