Blue Recycling Cart or Bin for Apartments and Condos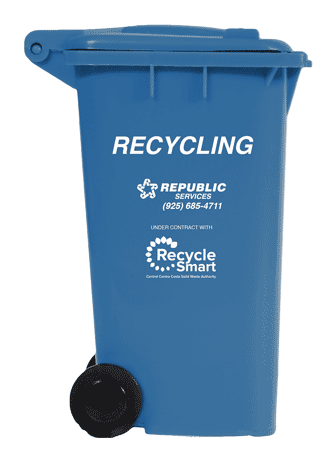 Blue bins and carts are mixed recycling for glass, metal, plastic, paper and cardboard.  If your bins/carts are overflowing, you can contact Republic Services at (925) 685-4711 to request more collection services throughout the week at no additional charge. 
Additional Tips
You can leave staples and paper clips in your papers.
Only rinse out jars and cans if there is a heavy food residue. During the drought, use a spatula, spoon or paper towel to remove food residue. You can then place the paper towel in your green cart.
Plastic VHS cartridge can be recycled, but the actual tape cannot. Please pull out the tape and put it into the black landfill cart or bin.
We can't accept polystyrene foam because when it's placed in a commingled bin and transported, it becomes contaminated with dirt and other materials. Because most curbside programs do not wash the material, recyclers have a hard time using it.

Put in Your Blue Cart or Bin
Glass
All colors, lids, caps (rinsed)
Bottles
CRV beverage containers
Jars
Paper
Books (paperback & hardback)
Boxes, packages
Carbonless paper
Cardboard (must fit in cart)
Catalogs
Colored and construction paper
Computer paper
Copy paper
Detergent boxes
Egg cartons (paper only; no polystyrene foam; if the eggs have broken put soiled cartons in Green Cart)
Envelopes with metal clasps (okay to leave the metal in)
Envelopes with plastic windows
Gift wrap (non-metallic)
Glossy paper
Magazines
Milk cartons
Newspapers and inserts
Paper bags
Paper packaging with remnant tape
Paperboard boxes (cereal & shoe boxes)
Paper shreds (in a brown paper bag or clear plastic bag)
Paper towel and toilet paper tubes
Pet food bags
Post-its
Telephone books
Tissue paper (gift type)
Plastic
Baby wipes containers
Bleach bottles
Buckets without handles
CRV beverage containers (soda, water, juice)
Detergent bottles
Film packaging: packing materials, bread bags, produce bags, plastic wrap, zip lock bags, etc. (put all dry and clean plastic bags in one) Bag-the-bags!
Food containers (no polystyrene foam)
Household cleaning containers (empty)
Lids and caps
Milk jugs
Plastic bags: shopping bags, bread bags, dry cleaning bags, produce bags, etc.  (put all dry and clean plastic bags in one) Bag-the-bags!
Plastic containers with recycling arrow #'s 1-7
Prescription bottles (empty)
Salad dressing bottles (rinsed)
Shampoo and conditioning bottles
Tub containers (Recycling arrow #'s 1-7)
Water jugs
Rigid plastics (such as buckets, laundry baskets, toys) 
Metal
Aluminum cans
Aluminum foil (clean)
Aluminum pie plates
Cookie sheets
CRV beverage cans
Food cans (clean)
Pet food cans (clean)
Scrap metal
Tin cans
Do Not Put in Blue Cart or Bin
Ceramic dishes
Disposable diapers
Drinking glasses
Facial tissues
Paper towels, napkins, paper plates, paper cups (Please place in your green cart)
Plastic utensils
Plastic hangers
Metal hangers
Metal paint cans
Mirror or window glass
Q-tips
Sanitary napkins
Polystyrene foam (including packaging materials)
Recyclables and Organics On-call Cleanup
Planning to trim back your trees? Want to clean out all the outdated paperwork in your home office? Just moved in and have loads of cardboard boxes and/or newspapers to recycle? If you don't have room in your recycling or organics carts for all that material, you can schedule an on-call service.
All single-family households in our service area are entitled to four (4) on-call recyclable/organics cleanups every year, at no additional charge. Call  us at (925) 685-4711 to schedule an appointment (please call at least two weeks in advance).
The total amount of material accepted is two cubic yards (the equivalent of fourteen 32-gallon bags).
Cardboard should be broken down and put in bundles no larger than 18" x 18". Paper and other recyclables should be put in brown paper bags, boxes or bundles using rope or twine.
Branches should be no larger than 2" in diameter and bundled no larger than two feet wide and four feet long.
Loose yard clippings such as leaves and grass should be placed in plastic bags, buckets, boxes, or personal trash cans, no more than 32 gallons per bag, box or container.
No garbage, ashes, dirt, rocks, glass, metal, fruit or vegetables, nor fibrous plants such as cactus, ice plant, ivy, palm, or poison oak or ivy can be accepted.